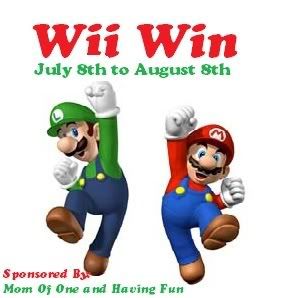 This blogger giveaway event will feature a Wii bundle with games. However, it's not just a giveaway…it's a fundraiser, too.
So, here's the deal: Mom of One and Having Fun is hosting this giveaway to help raise money for her friend, a struggling working mommy who has fallen on very difficult times.
We will be giving away:
Black Wii console with Super Mario Brothers and CD — includes controller and numchucks (ARV $150)
Built-in Wi-Fi access for easy Internet connection
Netflix instant streaming functionality allows for thousands of movies, TV shows, cartoons and more right to your TV New Super Mario Bros.
Wii offers a 1- to 4-player; cooperative or competitive experience
Drawsome! Tablet: ARV $60 Disney Sing It: Pop Hits: ARV $30 SpongeBob Boating Bash: ARV $20 Baby's First Steps: (ARV $20) Xtreme Fit Interactive Gaming System – NOT a Wii game but it's great for Mom and Dad (ARV $75)
That's more than $300 in prizes!
Here's the deets: You get two links for $5 (Facebook and Twitter) and additional links (such as GFC, Linky Followers, Blog Frog, Pinterest, StumbleUpon, Pinterest, etc.) are only $1 each!
Of course, you cannot use Google+ (it violates their TOS) or affiliate links.
You can only get up to three additional links. And, if you POST about the giveaway event sign-ups, you get one extra link FREE! Sign-ups end June 16, so hurry!
Did I mention there's a referral prize? Yup! The blogger with the MOST referrals gets $25 (possibly more, depending on how many bloggers sign up!)…so if you choose to sign up, make sure you let her know that "The Pretty Kitty" sent you!!


Head over to Mom of One and Having Fun for all the details and to sign up! And don't forget to join the Facebook group to keep up with everything.